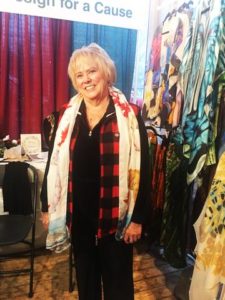 Our Seta and Ink Design for a Cause Campaign witnessed tremendous success last year. 
"Seta and Ink Design for a Cause" welcomed tens of thousand of guests at 19th annual Spruce Meadows International Market. Our booth was ready at Spruce Meadows over three weekends in a magical holiday atmosphere!
We exhibited scarves for a GREAT CAUSE!100% of the scarf proceeds went directly to "The EvenStart for Children's Foundation of Calgary " , helping children aged 3-5 coming from the background of poverty , trauma , abuse and neglect.
All our Scarves and Kimonos come in great fabric and at great prices! Great for personal use as well as gifting!
We witnessed our customers unwinding with friends and family, soaked up in the festive atmosphere and doing lots of shopping for their loved ones !
You can make a difference too ! Help a child in need!
 Check out one of our happy customers at our booth!